The November 2018 Update
I have good news and not so good news regarding this tee. The Call My Agent t-shirt found via Nordstrom is now sold out. However, Amazon has some decent ones currently available. I will not link to specific tees here as 1) I am not familiar with the brands selling those tees 2) There are no reviews to them as of yet. As always, I only post brands that I am familiar with. I'll probably buy a couple of them for my nephew. If I do, I will link you all to my review of them.
In the meantime, feel free to browse:
Call My Agent Boys T-Shirts via Amazon
The good news is that I will keep this page updated with all my favorite related finds in shirts for boys. And of course, if I come across a neat, available Call My Agent tee, I will post all about it here.
Related Cool T-Shirts for Boys
This Is What Awesome Looks Like

The This What Awesome Looks Like tshirt is currently available via Bloomingdale's for under $30. Boys' Sizes: SM- XL, 2 - 6/7.
Lifestyle of the Almost Famous T-Shirt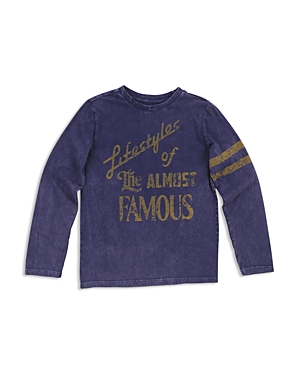 via Bloomingdale's, currently right under $40.