For more in cool graphic shirts for boys, be sure to check below for my favorite t-shirt finds. Nordstrom is now sold out on the chimphones tee by Jem. This was a funny blue tee featuring a chimp wearing headphones, and glasses as the text read
Still Not Listening
. I will add more tees below, so if you are looking for a cool t-shirt for your son, grandson, nephew, or special little boy in your life, bookmark this page.
Related Boys' Shirts via Design By Humans
(Most of the tees listed here are available in multiple colors and in a variety of styles which include men's sizing and much more. Select desired tee for more info.)
The Fancy Dino T-Shirt
DJ Scratch T-Shirt

Available via Bloomingdale's:
The Kid Dangerous Boombox Koala T-Shirt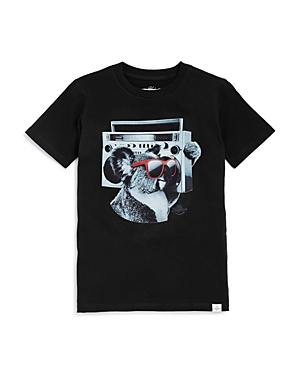 Graphic tee for boys featuring a cool Koala bear rocking a boombox. Currently Under $30.